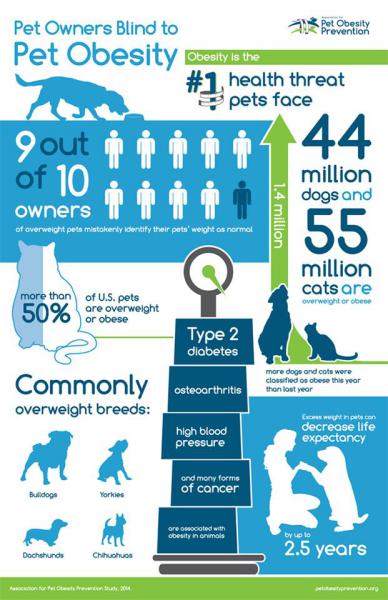 Is your pet overweight?
National Pet Obesity Day
Al's Pals is on a mission to provide healthier treat options for pet owners.  Many treats you buy at the store are loaded with artificial flavors and fillers that are not healthy for your pet AND can contribute to obesity.   Check out our selection of gourmet healthy dog treats and cat treats too.
Pet obesity is a serious health risk that far too many pet owners don't take seriously; many even see a chubby dog or cat as being cute. In fact, pets that are overweight are not cute. Allowing your pet to become so obese that it threatens his or her life can actually be considered abuse. Obese pets are susceptible to the same maladies as overweight humans, and certainly we take that very seriously. It's time to start thinking about the health of our pets where obesity is concerned.
October 12th

 
has been set aside as
National Pet Obesity Awareness Day
. APOP, the Association for Pet Obesity Prevention, has been a major influence in getting this holiday off the ground. Their 2007 study began one of the initial waves of awareness surrounding pet obesity. APOP's community of veterinary schools and various local and state veterinary institutes has made it their mission to improve the health of cats, dogs and all other types of pets.
Currently about
54%

 
of our dog and cat population are overweight. Many pet owners are not even aware that their pet might be overweight. Did you know that you should be able to feel your pet's ribs? If you cannot, then your pet may be overweight. Does your pet have a hanging abdomen? Then there is a strong chance it should be on a diet or exercise regimen. The fact is, our pets become overweight in exactly the same manner as their owners. A lack of exercise and too much food will surely put on the pounds.
Pet obesity leads to many serious health problems such as diabetes and arthritis. However, it is preventable.

Consider these options

1.

Schedule an appointment with your veterinarian to discuss weight issues and how to combat them

.

2.
Feed your pet the best available food within your budget.
3.
Follow the guidelines on the packaging of your pet food to determine the proper amount of food a day your pet should be given.
4.
Give your pet healthy treats but don't overdo it. Treats are just that – treats.
5.
Plenty of exercise is a must. This includes walks, running around the yard or home, and lots of play time.

Since so many pets and humans alike are on the obesity list, think of how fun it can be to join an exercise routine together. Talk with friends and neighbors about going on walks or hikes with them and their pets. The different ways to exercise and melt away some of those pounds with your pet are almost endless.

A good way to spread awareness about National Pet Obesity Awareness Day is for pet owners to talk to their local vets about advertising. Getting them on board can go a long way in spreading the word.

Spread the word and get on the National Pet Obesity Awareness Day bandwagon to make our pets healthier and happier!