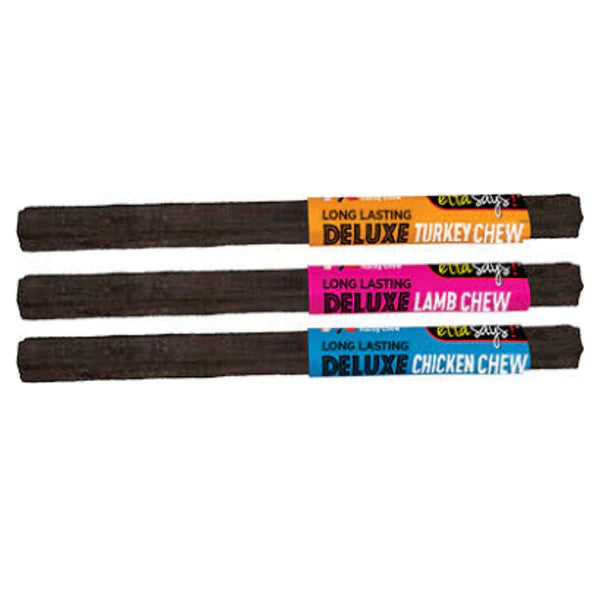 7 Inch Deluxe Dog Chews
Original price
$0.00
-
Original price
$0.00
Our Deluxe Dog Chews are a premium, all-natural dog treat made from 100% natural ingredients.  These deluxe chews are slow-roasted to bring out their natural flavor and aroma, making them irresistible to dogs.
Our Deluxe Dog chews are high in protein, low in fat, and gluten-free, making them a nutritious and healthy treat for your furry friend. They are also free of artificial preservatives, flavors, and chemicals, making them a safe and wholesome option for dogs with food sensitivities.
The unique texture of bthese chews provides a satisfying chew that helps keep teeth clean and promotes healthy jaws. They are also a great option for dogs who love to chew and can help satisfy the urge to chew, reducing the risk of destructive behavior.
So why not treat your furry friend to the all-natural goodness of our Deluxe Dog chews today and help keep them happy, healthy, and satisfied!
Ingredients Turkey Chew
Potato Starch, Glycerin, Dried Molasses, Dried Tapioca Syrup, Cellulose, Cultured Skim Milk, Gelatin, Natural Turkey Flavor, Egg, Natural Smoke Flavor, Tocopherol(As A Preservative)
Potato Starch, Glycerin, Dried Molasses, Dried Tapioca Syrup, Cellulose, Cultured Skim Milk, Gelatin, Natural Chicken
Flavor, Egg, Natural Smoke Flavor, Tocopherol(As A Preservative)
Potato Starch, Glycerin, Dried Molasses, Dried Tapioca Syrup, Cellulose, Cultured Skim Milk, Gelatin, Natural Lamb Flavor, Egg, Natural Smoke Flavor, Tocopherol(As A Preservative)