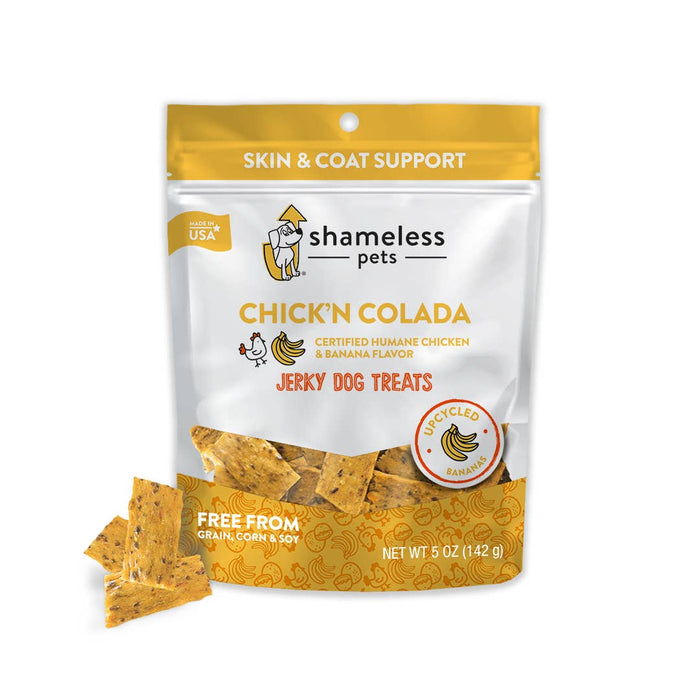 Jerky Treats-Chick'n Colada Flavored
Original price
$9.00
-
Original price
$9.00
Plan your escape to the tropics for a clucking good time!  While these bites support your pup's skin & coat, it won't prevent that first-day-at-the-beach sunburn.  We use humanely raised chicken which means they get feed that doesn't plump up the volume with growth hormones and space where they can throw feathers to the wind.
Ingredients:  
Chicken, sweet potato*, banana*, coconut glycerin, natural flavor, sea salt, coconut, chia seeds, flaxseed meal, mixed tocopherol (a preservative)
* Upcycled ingredients
These treats are free from grain, corn, and soy, contain no artificial flavors, and are proudly made in the USA.
What does upcycling mean?  It means rescuing and transforming misfit and surplus produce into high quality treats for your pets.

We prioritize working with North American suppliers to find creative, sustainable solutions to rescue foods that would otherwise go to a food waste destination. According to Project Drawdown, "preventing food waste is the single greatest solution to fighting climate change."
Upcycled ingredients go through rigorous protocols and testing to ensure they're of the highest quality before bringing them home and living their best second life as treats.